A Responsible Way To Disinfect
Regularly cleaning your home and its surfaces is great, it's actually highly encouraged. No better feeling than seeing your home spotless, not a crumb in sight. But have you realized that many household cleaners recommend you use gloves and other protective equipment? That's because many cleaners can give you headaches and irritate your skin/eyes/throat. Covered in a previous blog, some of these products release volatile organic compounds (VOC's) which are harmful to your health and are a large cause of indoor air pollution.
So, we use harmful chemicals to "clean" our homes and we feel great doing it, weird right?
The Total Restore difference
Towards the end of the water restoration process, the exposed area must be cleaned and disinfected to prevent the spread of harmful germs and prevent mold growth; almost ALL damage restoration companies use artificial chemicals for this process. This is where we differ from our competitors.
Total Restore uses something you've probably never heard of, Benefect. Believe it or not, Benefect is the first and only authentic botanical cleaning technology, we do not even need to rinse surfaces after application.
Benefits
To protect themselves from invading microbes, plants naturally produce germ-killing essential oils. Bottling a plants immune system, Benefect combines a blend of these oils with natural extracts, using no synthetic chemicals. Benefect doesn't come with chemical "baggage", it is completely safe for humans. This means after our company has treated a surface with Benefect, the room is safe to go into and touch. The best part? According to Benefect's website, 5,000 years of history shows microbes do not build a resistance or tolerance to the antimicrobial action of essential oils.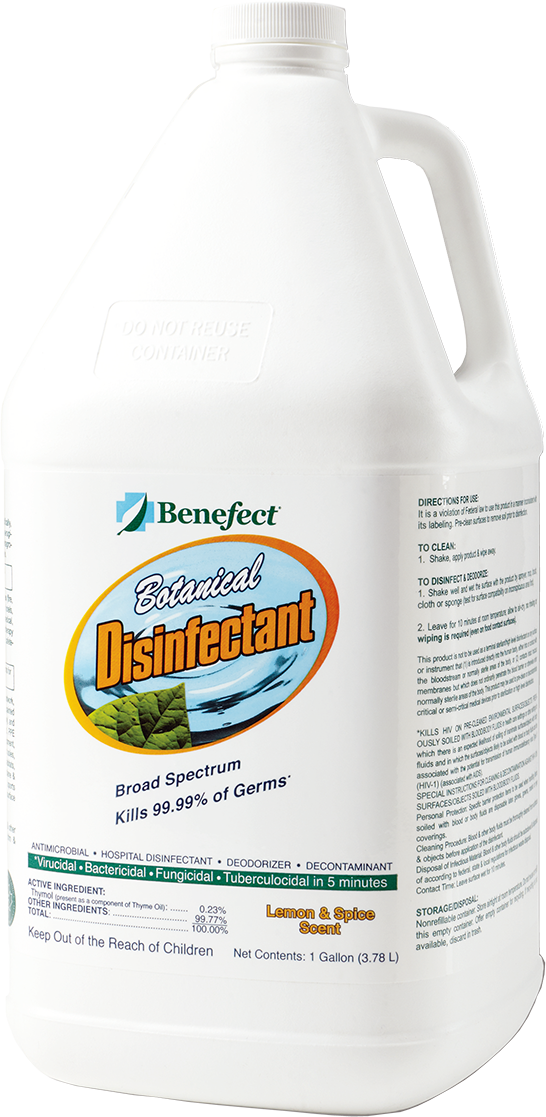 Think of Benefect as the electric engine vs the competitors artificial gas-powered engine. Electric engines are often thought of as weaker, but that couldn't be more incorrect. This botanical disinfectant doesn't compromise in strength, it surpasses the EPA's efficacy requirements for broad spectrum hospital disinfectants WITHOUT compromising human health.
Recap
Total Restore uses a completely safe, botanical cleaner to clean and disinfect surfaces during our restoration process. Benefect is LESS toxic than vinegar, we don't even have to wear masks/gloves when we apply it.
Thank you for reading our weekly blogs. Please reach out with topics you would like us to tackle in our future blogs!